Mobile App Development
Experience mobile. Capture mobile moments.
Mobile devices and connectivity can be potent business resources, given businesses align, integrate, plan and leverage on the opportunity. We help you multiply business value by designing exceptional experiences that overwhelm users.
Obtain differential competitive advantage in your business by harnessing the power of customer-engagement through mobile devices.
Get the power of app/mobile content in your existing business.
Stay connected with your customers, employees or vendors, anytime, anywhere.
Personalise content by tracking use patterns and preferences, and continuously improve at it.
Keep user information private and secure.
Our users love us. We make
sophisticated mobile applications
surprisingly simple to use.
---
Whether you are scrabbling an idea, or are mid-way through development, or are simply looking for a version upgrade, whatever stage of development you are in, we've got you covered. We'll help take your project through the complete app development process, from conceptualization to planning, to framework, designing, testing, deployment and beyond.
Stay ahead of competition.
Get the Innodeed Advantage.
---
Technology is constantly changing. Mobile technology is changing faster than we can manage it. Features and functionality are ever evolving too. We can help you turn the transforming-technology chaos to your advantage by applying a wealth of tools that evolve with technology and enrich native apps and cross-platform performance.
Fluid development approach
The next advanced step for application user experience, fluid development employs the latest web development standards i.e. HTML 5.0 and CSS 3.0. We help in creating versatile applications that are accessible from a variety of devices and multiple platforms.
Lean, and agile principles
Our zen-like wisdom combined with expansive experience seeks to execute "right projects right" such that all stakeholders are complacent with the project, if not delighted. Eliminating waste, adapting, evolving, communicating right, using resources judiciously, compliance, planning, control, whatever it takes to accomplish the project most effectively and efficiently.
Value-driven, customer-centric blueprint
We base the entire product planning around the needs, preferences and the context of your customers. From deliverables to design, content, UX, UI, service and to quality of the product, everything is designed keeping the end-user in mind.
Innovation and creativity
We encourage our people to brainstorm, think and connect different ideas together, to bring out solutions that are innovative and creative. Our 'out of the box' ideas approach helps the team to:
Competitive pricing
We, at Innodeed, understand the criticality and equally value your time and money. We get into fine details accurately estimating project scope paving way for precise cost estimates that are best in the industry. Competitively priced, we are committed to delivering in a timely manner. We strive to be a valuable resource to our client right from the time of guiding through the process of planning the apt solution to the deployment of the project.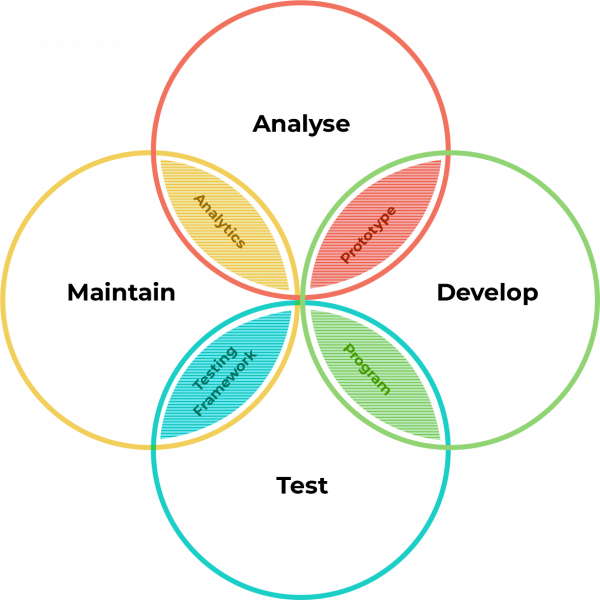 LET'S WORK
TOGETHER
---
Hello! Let's connect and work together to create game changing experiences for your business and customers.